Dutch
pierre@stratospherik.ch
Main actors:
Antonio Petrone
Written by:
Antonio Petrone
Directed by:
Antonio Petrone
Year of filming:
2017, En production
Country of filming:
Italy, Switzerland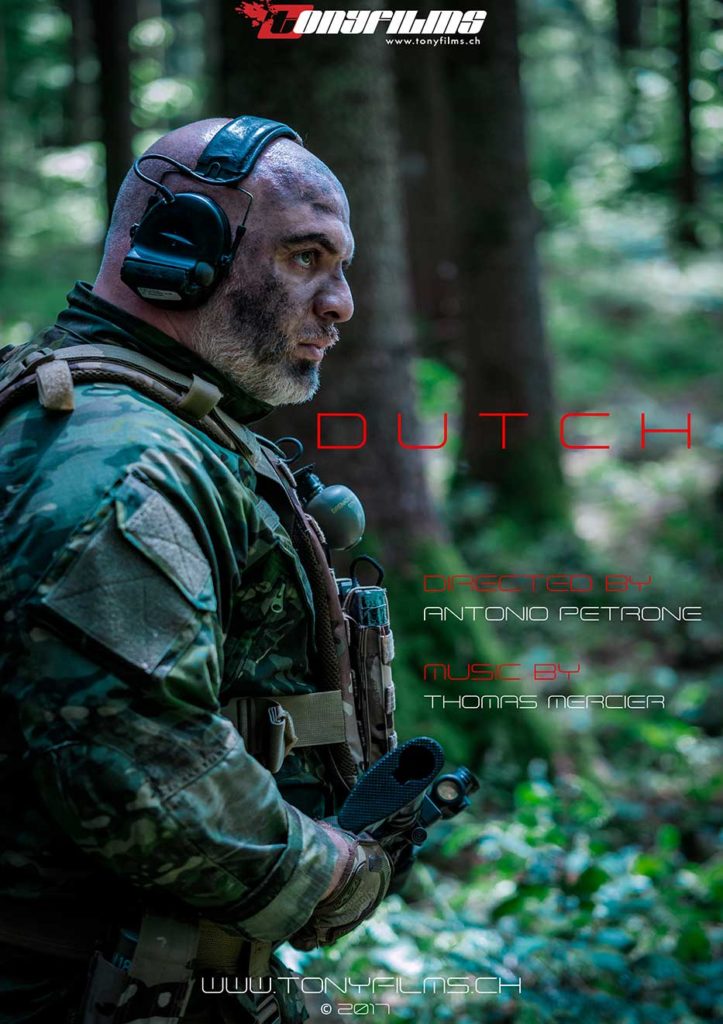 Dutch, a retired military officer goes on a mission to save two friends who have been held hostage by a terrorist group. He asks his friend Mike and his mercenaries to come along…Lost in a huge forest, Dutch has no idea what he is about to discover…
This movie is primarily a present for my childhoodfriends. When I was twelve years old, I already loved cinematography, and decided to shoot a movie with my classmates, in a nearby forest. I scribbled a script on a piece of paper when I was in class, and we bought military costumes and toy guns which didn't look real at all. With the money we had been saving, we managed to make my first movie. Today, with "Dutch", I wanted to remember this first project and also pay tribute to the friends who participated.
Dutch, a retired military officer, discovers that two of his closest friends, Dylan and Billy, have been held captive by a terrorist group while on a spy mission. He decides to go look for them along with Mike and his mercenaries. In the forest, they meet Jenny, a CIA agent and friend of Dutch. Shortly after, they find the corpse of a man who was part of the team, and realize they're not alone. Dutch decides to stay by his friends' side, but has no idea what he is going to come across…
Antonio Petrone : Dutch – Michael Alvarez : Mike Keal – Romina Garruso : Jenny – Anthony Dessibourg.
Adrien Denham – Jérémy Burkli – Gabriel Signorello – Johan Gaimard – Adrien Bonnet – Maalik Maghraoui.
Original script by: Antonio Petrone – Produced by: Tonyfilms – Directed by: Antonio Petrone – Music: Thomas Mercier – Director of photography : Damien Césure – Sound technician: Victor Collelough – Editing : Gérald Rochat – Set Photographer: Walter Marinelli – Stage Manager/Script : Antonio Petrone – Voice dubbing : Laure Aubert – Drone image : Pedro Gutiérrez Fernandez
La commune de Brenles (Suisse) – La commune de Bussigny (Suisse) – La Vallée d'Aoste (Italie) Il corpo forestale della Valle d'Aosta (Italie) – Gian-Carlo Cesti (Italie) – Il commune di Brusson (Italie) La questura di Polizia di Aosta (Italie) La maison Perrière pour son accueil (Italie) – Il pirotecnico FIRE FLASH (Abruzzo/Italie) – Michael Alvarez et son équipe – Adrien Bonnet.