The taste of blood
pierre@stratospherik.ch
Main actors:
Guy Amram, Tony Amoni
Written by:
Antonio Petrone
Directed by:
Antonio Petrone
Country of filming:
France, Switzerland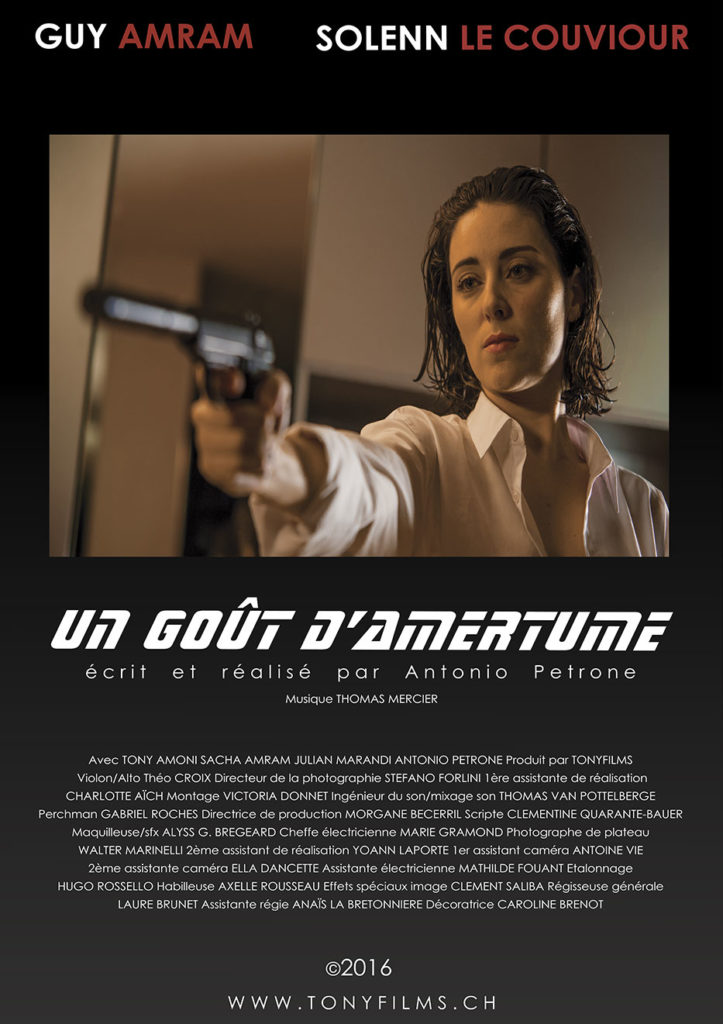 After more than twenty years, Patrick Meyer and Emma Marinelli meet again thanks to an online dating website. Patrick, crazy in love with her since childhood, invites her for a drink in a nice bar, but they actually don't have the same thing in mind when it comes to what's next for the night…
Nowadays, online dating websites have become more popular than real-life dating between opposite sex or same-sex people. Everyone, at any time of their life, might choose online dating to help them find their soul mates, whether because they find it easier, because they're shy or afraid of rejection. The nice thing about online dating is that it is a quicker method, and it enables us to choose someone sharing the same interests. The downside is that we never really know who's on the other side of the screen. It might as well be a sex offender, a drug dealer or another criminal. That was what I tried to show with this movie, since the two characters know each other since forever but cannot say they really know who they are.
Patrick Meyer, a middle-aged man who has been very successful in life, has not met the woman of his dreams yet. One day, he decides to try online dating, and encounters Emma Marinelli, his first love, who is also looking for her soul mate. That's when they go out for a drink in a romantic place. They continue their night in the bedroom, but don't have quite the same thing in mind…
Do Patrick and Emma really know each other after all these years ?
Guy Amram : Patrick Meyer – Solenn Le Couviour : Emma Marinelli – Luca (child) : Sacha Amram – child's father : Tony Amoni – bartender: Julian Marandi – Valet : Antonio Petrone
Alain Poupaux – Brigitte Raquin – Arlette Najsztat – Alex Andra – Ulrich Bassin – Philippe Berninet – Raphael Kessler – Guillaume Gronnier – Ellen Langrand – Eva Spitz – Nathalie Labry – Yuan Lin – Mélanie Nostry – Mariannick Le Cavil.
Original script by : Antonio Petrone – Produced by: Tonyfilms – Directed by: Antonio Petrone – 1st assistant director: Charlotte Aïch – Music: Thomas Mercier – Director of photography: Stefano Forlini – 1st assistant camera: Antoine Vie – 2nd assistant camera: Antoine Vie – 2nd assistant camera: Ella Dancette – 2nd assistant director: Yoann Laporte – Production manager : Morgane Becerril – Script: Clémentine Quarante-Bauer – Sound engineer /sound editing: Thomas Van Pottelberge – Boom operator: Gabriel Roches – Chief electrician: Marie Gramond – Electrician assistant: Mathilde Fouant – Montage: Victoria Donnet – Calibration: Hugo Rossello – Make-up and special effects: Alyss G.Bregeard – Special effects: Clément Saliba – Stylist: Axelle Rousseau – Film set photographer :Walter Marinelli – Location manager:Laure Brunet – Assistant location manager: Anaïs La Bretonnière – Decorator: Caroline Brenot
Manuela Petrone, Alessandra Petrone Urfer, Jimmy Urfer, Giuseppe Petrone, Rosita Ragonesi, Alexis Denham, Serge Koumako, Jemassure Sàrl, Yann Mühlbauer, Isabelle Zysset, Giuseppe Lucciarini, Laura Bitchnau, Francesco Lucciarini, Philippe Huget, Sabrina Tulleuda Lo Conte, David Tulleuda, Katia Lo Conte, Gianni Paolino,
THANK YOU TO THE WHOLE TEAM FOR THE GREAT JOB !