Murphy
pierre@stratospherik.ch
Starring :
Guy Amram, Grégory kristoforoff, Damien Leconte
Written by:
Antonio Petrone
Directed by:
Antonio Petrone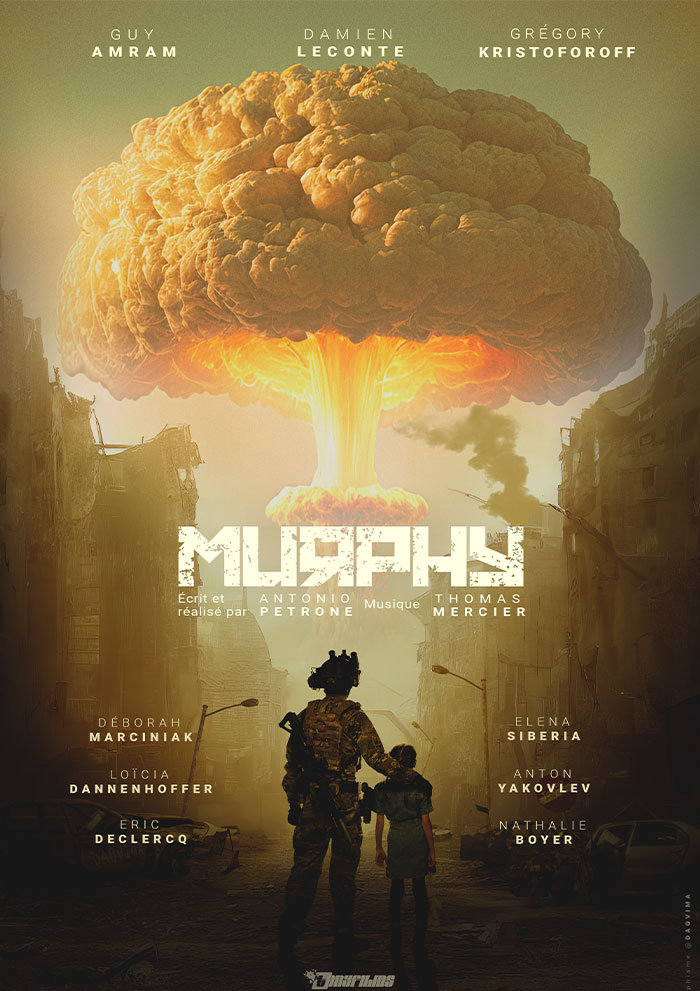 During world war, two soldiers, coming from different countries find themselves trapped in an abandoned building. Instead of killing each other, they are going to put their weapons down and take care of a 10-year-old girl, who became an orphan, after both her parents were killed before her eyes.
This movie was meant to bring more awareness and empathy in the context of world war. I have always wanted to work on this topic since it has been used in movies since forever, and has been even more viral since the invasion of Ukraine in February 2022. Ever since the dawn of time, war has existed because of greed, power, money, fights over territory, etc., but mainly because of pure foolishness. The movie is about what we are willing to sacrifice to help our neighbour, and how far our hearts pushes us towards that goal. Some will tell you that war is a necessary evil to keep the economy running, and some will tell you it's an abomination.
02.04.2029. The world has been ablaze and in turmoil for five years now, and the world is on the verge of the nuclear apocalypse. The atmosphere is heavy and uncertain. Humanity is left to fend for itself, enduring its greatest famine. A wounded Russian soldier seeks shelter in an abandoned building. Later, two other soldiers belonging to another nation in conflict against Russia find themselves locked in the same building. A discovery forces the two men to set the war aside..
Guy Amram : Harry – Déborah Marciniak : Emma – Damien Leconte : Carl – Grégory Kristoforoff : Dimitri – Elena Siberia : Elena – Anton Yakovlev : Russian president – Loïca Dannenhoffer : Marie – Nathalie Boyer : Lorena – Eric Declercq : Sergent Marks – Philippe Morax : TV reporter
Written and directed by: Antonio Petrone – Produced by : Tonyfilms – Co-produced by : Aleksandar Ristov – Music : Thomas Mercier – First assistant director : Alicia Ferrieu – Production manager : Yoann Laporte
Everyone that helped fund the movie thanks to their donations. The entire film crew for its commitment to the project and its wonderful job !