Boss
pierre@stratospherik.ch
Starring:
Yannick Guiraud, Aurèle Petitpierre
Written by:
Antonio Petrone
Directed by:
Antonio Petrone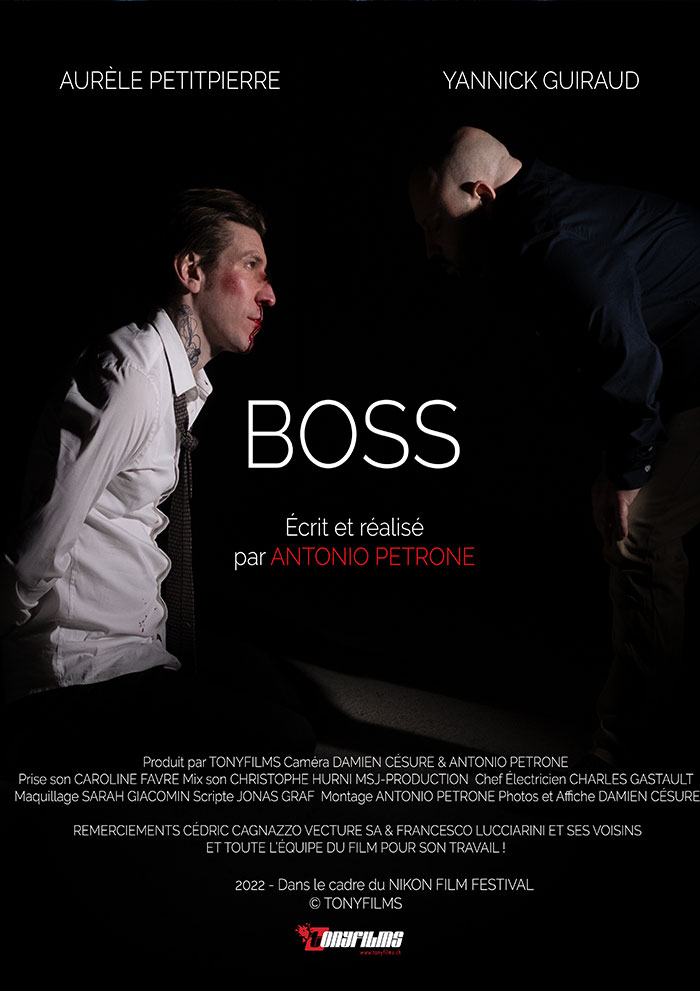 A perfect but overworked employee, striving to do his best for many years, is constantly belittled by his boss, despite his efforts. One day, he thinks about abducting him and teaching him a good lesson.
Everyone has experienced once in their career, working with a boss or a bossy manager who was disrespectful to his employees, even when they are fully invested in the company. A lot of people have been victims of harassment, or suffered from mobbing or racism. We cannot just assume that we can mistreat an employee, a human being and just hope that this person won't do anything about it. We can't slap someone and hope they will just turn the other cheek. Not everyone has the same skills or professional experience, but mutual respect is crucial for everyone, no exception.
An employee who gives his heart and soul to their boss finds himself mistreated for every little thing. The boss doesn't even allow his employee to take time off to support his spouse for chemotherapy. One day, the employee decides to take matters into his own hands and kidnaps the boss, resorting to physical violence to humiliate him in return so he understands his mistakes.
Yannick Guiraud : Employee – Aurèle Petitpierre : Boss
Original script by : Antonio Petrone – Produced by : Tonyfilms – Camera operators: Damien Césure and Antonio Petrone – Production sound mixer : Caroline Favre – Gaffer: Charles Gastault – Script: Jonas Graf – Make-up: Sarah Giacomin – Pictures and posters: Damien Césure – Editing: – Antonio Petrone – Calibration: Damien Césure – Production sound mixer: MSJ Production and Christophe Hürni
Cédric Cagnazzo and Vectur SA, Francesco Lucciarini and the entire crew for its great job !